At Dr. Evangel's Chiropractic Wellness Center, we recognize that your choice of a chiropractor in Ramsey, NJ is driven both by the chiropractor's competency and personality. When searching for chiropractic treatment, you need a chiropractor who is experienced, understanding and supportive. You get this caring attitude from all the staff at Dr. Evangel's Chiropractic Wellness Center every day. Our staff works together as a team to ensure we are responsive to your needs and keep you informed about your health issues. We look forward to getting to know you.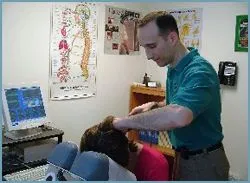 Dr. Michael S. Evangel, D.C.
Licensed Chiropractor, New Jersey, in private practice since 1986
Official Chiropractor for Garden State Karate Games.
Other Relevant Experience
Member International Chiropractic Association Sports and Fitness Council
1986 to 1988
ICA Representative to Asian Games Scientific Congress - 1986
Former High School Physics and Biology Teacher
Athletic Trainer for High School Athletes - 1976 to 1980
Education
Montclair State College -- BA in Biology -- Teaching Certification in Sciences --1975
Montclair State College -- MA in Environmental Studies -- 1980
New York Chiropractic College -- Doctor of Chiropractic -- 1985
Additional Post-Doctoral Courses
Certification in Comparative Computerized Muscle Testing Myotech Corporation -- 1988
Radiation Safety X-ray Techniques -- 1993
Academy General Practice Chiropractic Post-Doctoral Programs -- 1988 to present
Healthcare Education Associates' Comprehensive Chiropractic Managed Care Self
Assessment Program -- 1995
NCMIC 1996 Risk Management Seminar Series, Track One
A.M.A. Impairment Ratings - Masters Recognition -- 1997
Additional Information
Performed over 200 IME's Since 1987.
Received ICA's Excellence in International Relations Award -- 1987
Experience working with many professional and amateur athletes
Healthcare Education Associates, Northwestern College of Chiropractic and National College of Chiropractic, Volume 1 of Healthcare Education Associates' Comprehensive Chiropractic Managed Care Self-Assessment Program -- 1995